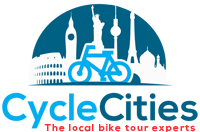 Washington DC
The White City

I have this memory of Washington DC being the whitest city I'd ever seen. 

There's the iconic President's residence/offices 'The White House' which I suppose typifies what I'm saying, but also the US Capitol building, and many other political buildings and monuments clustered throughout the centre. 

The city was also covered in snow so this might be why it left such an impression. 

January not the best time to be in DC. Bike tours close down, snow becomes a bit of a cycling hazard. I can recommend instead late March. The Cherry Blossom Festival is the start of this marvellous city coming to life for it's long, warm spring and summer. I'd imagine it's what many DC'ers wait for from Christmas onwards each year. 

DC is also a very flat city.. so great for biking (when the snow's not so deep!)

Steve Kopandy spent his 20's travelling the world, and has taken guided bike tours and cycle trips in, and to, many European cities. He works as the Business Manager for London Bicycle Tour Company and started Cycle Cities to give more profile to bike tours worldwide.