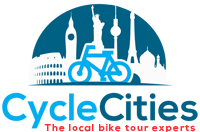 New York
Make friends, will travel.

I went to New York about 5-10 years ago.

It's such a huge place. I've spent a total 15 days in New York. The only time I left Manhattan was to do the obligatory trek across the Brooklyn Bridge, and the obligatory free Staten Island Ferry - so I've been to 3 boroughs!

But I haven't set foot in Central Park. Just not enough time! Manhattan is not a small place. There's not really a 'Central Manhattan' as you would see it. It's a jungle of different regions, styles, neighbourhoods, average skyscraper heights, and friendly natives.

My friend Darryll, who recently visited me in London and took a bike tour here, owns Bike and Roll in New York City. He's got locations for bike rental right in Central Park. If only I'd have known this guy 10 years earlier! Mates rates I'm sure! It's not a cheap place to go.

I took an open top bus tour. $50 ten years ago. And was stuck in traffic for hours. Again, Darryll would have come to my rescue had my contacts in the bike tourism business been a little more global at the time. 

If you have a Darryll, or any friend with a spare bike, in NYC or anywhere in the world, make sure you don't get stuck in traffic as I did!!

Steve Kopandy spent his 20's travelling the world, and has taken guided bike tours and cycle trips in, and to, many cities. He works as the Business Manager for London Bicycle Tour Company and started Cycle Cities to give more profile to bike tours worldwide.